Cover and track list of the EP "Spiral" are released
Posted on 09/10/2021 @ 09:19 | 101 views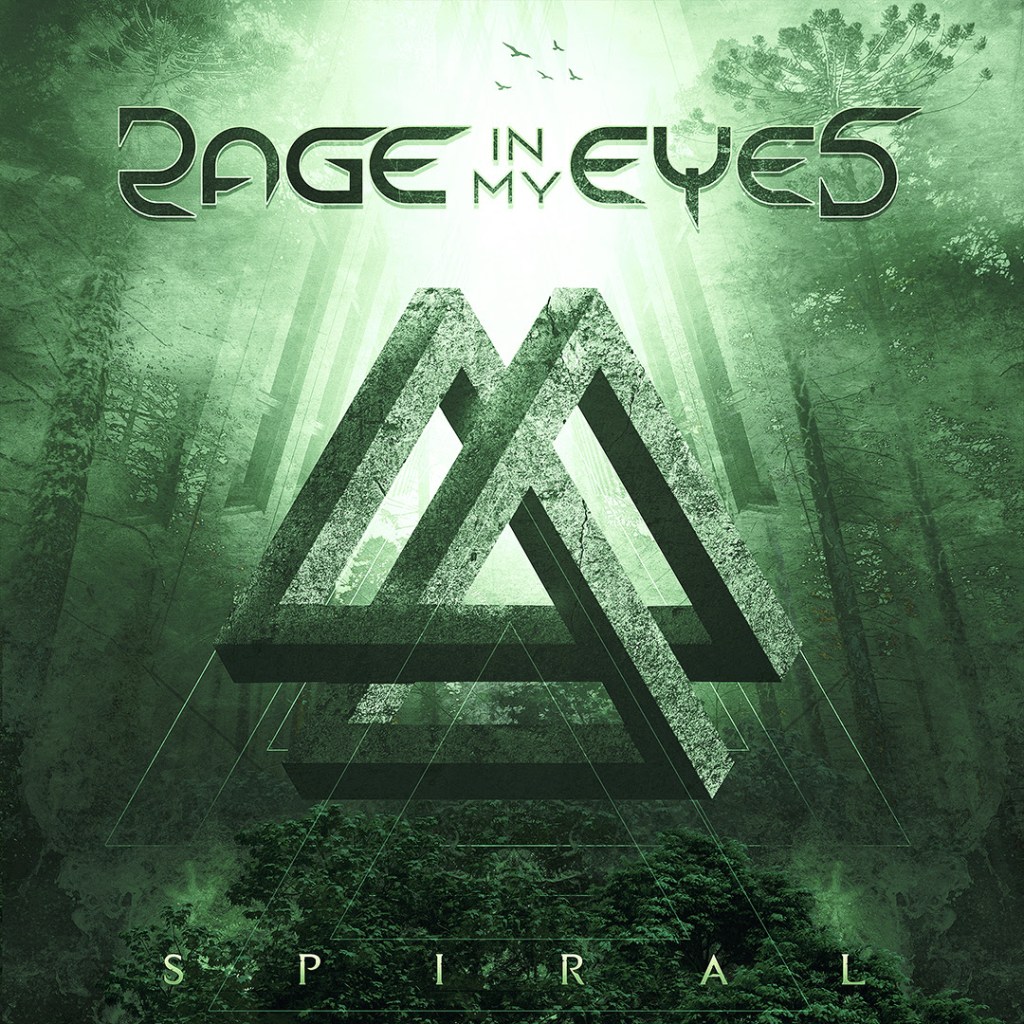 Scheduled for release on October 15th, the EP "Spiral", by the band RAGE IN MY EYES, will show the quartet in its new phase. Two years separate this new release from the first album "Ice Cell", from 2019, and the very experience of composing and recording in the midst of a pandemic brings new elements to the compositions. The first song from the EP that the public was able to check out was "And Then Came the Storm", released in video clip format. With the clip running, now the band releases the cover of the work and its track list. The cover art was developed by Carlos Fides (Evergrey, Edu Falaschi, Shaman), and according to vocalist Jonathas Pozo, "Spirals refer to time and cycles, and symbolically are used by different cultures and beliefs to represent death and life, renewal, evolution and involution or simply the progression of existence".
Although all members of the band have suffered losses because of the pandemic, the EP is not conceptual, as Jonathas explains: ""Spiral" is not an EP about the pandemic, but assumes itself completely involved by the consequences and reflexes of it in its stages of creation and production, thus expressing and artistically imprinting our losses and our grief during this period; from the estrangement with the new everyday to the search for sanity and adaptation in this cycle that we are going through. "Spiral" is above all a celebration of the life that goes on, in memory and in action, but which continues to be understood as cyclical".
In the approximately 20 minutes of the EP's duration, RAGE IN MY EYES informs that there is material for all types of Heavy Metal lovers, being its most differentiated work in these almost 20 years on the road: "It has great guitar riffs, fast drum parts, intricate instrumental parts and powerful yet melodic vocals. Sometimes it leans towards Prog Metal, sometimes Power Metal, sometimes Folk Metal, sometimes traditional Heavy Metal, sometimes Thrash Metal, with a hint of old school Metal like Sabbath and Dio".
The pre-save of the EP is now available at https://onerpm.link/887863749309 and on Bandcamp your pre-sale is now available at https://rageinmyeyes.bandcamp.com.
Check the complete track list:
1. Farewell (1:32)
2. And Then Came The Storm (5:01)
3. Dare To Defy (3:40)
4. Spark Of Hope (5:06)
5. Spiral Seasons (3:54)
Line-up:
Jonathas Pozo – Vocal
Magnus Wichmann – Guitar
Pedro Fauth – Bass
Francis Cassol – Battery
Watch the video for "And Then Came the Storm":
https://youtu.be/3iJ3tkqR1uU
Listen to the album "Ice Cell" on Spotify:
https://open.spotify.com/album/2BtduBVMyoLJYIMf6LhfH8
Photo credits: Tiemy Saito
Contacts:
Website: www.rageinmyeyes.com
Website: https://rageinmyeyes.bandcamp.com
Youtube: https://www.youtube.com/rageinmyeyes
Facebook: http://www.facebook.com/rageinmyeyess
Instagram: http://www.instagram.com/rageinmyeyes
Press Office: www.wargodspress.com.br
---